The UCF Center for Law and Policy would like you to join us for our next installment of our Distinguished Speaker Series, held on March 5th, at 7:00 p.m. in HPA1 Room 112. The topic of discussion will be Equity in Sentencing Analysis System, and our speaker will be Attorney, Author, & Pastor Mr. A. Wellington Barlow Esq.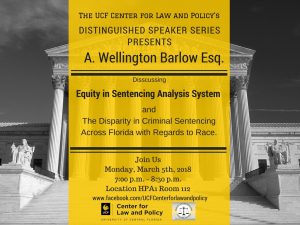 Mr. Barlow, who will be speaking about inequities in sentencing, pulls from over three (3) decades of trial court experience. He is uniquely qualified to serve people from all walks of life on multiple levels. His legal background provides a wealth of wisdom, knowledge and practical experience that's freely shared in books and publications. His life's work has chiefly involved aggressively protecting the constitutional rights of the criminally accused in criminal courts of law, the rights of victims of accidents and/or crimes to be made whole in civil courts of law. He has created a Sentencing Analysis System that is being contemplated in many circuits in Florida, and which is the fodder for a great dialogue by judges, legislators and lawyers.
http://www.cfacdl.org/wp-content/uploads/2016/08/logo.png
0
0
Amanda Sampaio
http://www.cfacdl.org/wp-content/uploads/2016/08/logo.png
Amanda Sampaio
2018-02-21 20:18:09
2018-04-07 09:44:17
A Discussion on Equity in Sentencing with A. Wellington Barlow, Esq.